Tuesday, February 15, 2022
Highlights of the News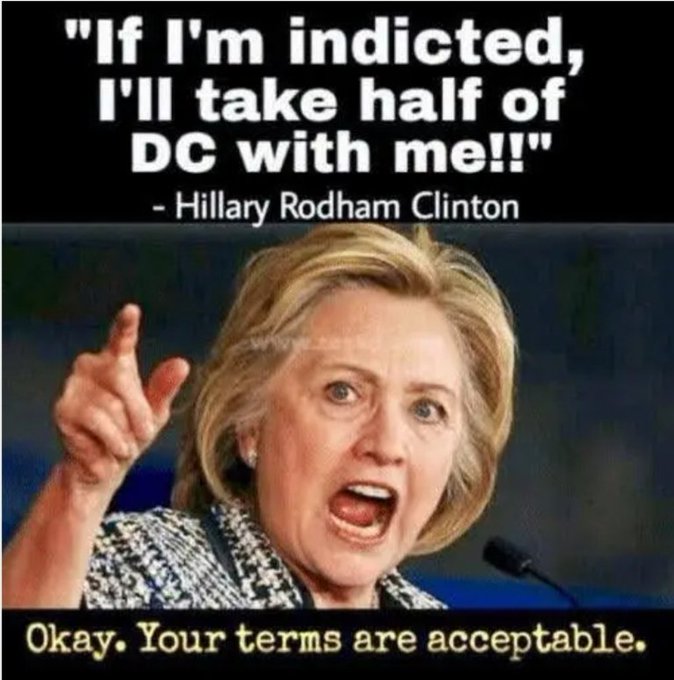 ITEM 1: Just the News reported, "An increasing number of Democrats believe Hillary Clinton should be investigated by special counsel John Durham in connection with her alleged involvement in manufacturing ties between 2016 presidential rival Donald Trump and the Russia, according to a recent survey."I shouldn't hope, given her track record for escaping nooses, but spying on a sitting president should lead to a conviction and lengthy prison term.
ITEM 2: Axios reported, "The New York Times was handed a small victory on Monday, after a New York district judge said he would dismiss a landmark defamation case brought against it by former Alaska Governor Sarah Palin."
Thee jury be damned, this Clinton appointee will exonerate the New York Times because it is a powerful newspaper that services the elitists.
The case shows the meaninglessness of corrections. Some DNC operative pushed in 2011 a lie that Palin triggered a mass murder. This was reported as the truth. Dismissed as false in the next news cycle, it was forever etched in the small minds of Know Nothing Liberals.
6 years later, NYT drags it up to serve as a cover for a Democrat trying to assassinate Republican congressmen as part of Obama's resistance.
Appeal, appeal, appeal.
ITEM 3: Spiked reported, "The Black Lives Matter movement has raised billions of dollars over the past several years. But no one seems to know how most of that money has been spent.
"On 20 December 2020, The Economist noted that $10.6 billion had been pledged to causes and organizations affiliated with BLM. According to that article and further reporting from the right-leaning Daily Signal, BLM's corporate donors included Amazon, Gatorade, Microsoft, 23andMe and Tinder, while recipients ranged from the small-scale Unicorn Riot guerilla media firm to the sizeable Black Lives Matter Global Network Foundation."
BLM.
Billions Lost Mysteriously.
ITEM 4: HuffPost reported, "Alex Rodriguez, Once Scorned By Trump, In Group Buying His D.C. Hotel."
Nothing personal. Just business.
ITEM 5: CBC (the official state TV outlet) announced that Chairman "Trudeau says he has invoked the Emergencies Act for the first in time in Canada's history to give the federal government extra powers to handle ongoing blockades and protests against pandemic restrictions."
If Adolf Castreau cannot take the heat, he should get out of the Rideau Cottage.
(A cottage is the official residence? Dang Canada is cheap.
Meanwhile, Vice reported, "Hackers Just Leaked the Names of 92,000 'Freedom Convoy' Donors."
Hackers? Only if you spell Big Tech H-A-C-K-E-R-S.
ITEM 6: The New York Post reported, "New York Rep. Alexandria Ocasio-Cortez whined about her job and blamed the expiration of the expanded child tax credit for fueling crime in a new interview where she claimed that parents are stealing baby formula to feed their kids."
Um, the problem isn't baby formula.
It is the rise in murder and the pushing of Asians into oncoming subway trains.
Once, the KKK was the future of the Democrat Party. Now AOC is.
ITEM 7: PJ Media reported Neil Young and Joni Mitchell are back on Spotify after being drama queens over Joe Rogan.
The story said, "This isn't Young's first time caving to evil Spotify, either. In 2019, he pulled his music because the platform wasn't good enough for him. But after initially complaining that Spotify was too low-fidelity for high quality sounds such as his, Young relented and returned his catalog to the platform."
Young cashed in his music for $150 million a few years ago, so maybe the actual owners of his music objected to his intervened.
I have never listened to Rogan but I defend his God-given right to trigger Neil Young.
ITEM 8: Fact check: TRUE.
But men have more fun.
ITEM 9: The New York Post reported, "Mayor Eric Adams fired more than 1,400 government workers who refused to get vaccinated, the city revealed on Monday — including 36 NYPD personnel, 25 Fire Department workers and 914 Department of Education staffers.
"The number had dropped considerably by last Friday's vaccine mandate deadline as more employees submitted proof of getting at least one shot, City Hall officials said.
"At one point last week, officials estimated that 4,000 were on the chopping block.
"The number then dropped to around 3,400 — and then to 1,430 firings, officials said.
"In one category, there were 2,400 veteran employees on leave without pay who had not opted to extend their health insurance and had not provided proof of vaccination. In the end, 1,428 of those city workers failed to get shots and were fired."
That is out of 332,511 city workers.
Cincinnati has 308,929 people.
ITEM 10: Outkick reported, "Longtime sideline reporter Michele Tafoya got a shout out from legendary play-by-play man Al Michaels at the end of NBC's coverage of the Super Bowl, and with good reason.
"After 30 years on the sideline, Tafoya is hanging 'em up. At least as a nationally recognized and highly respected sideline reporter.
"Now, she will immediately co-chair Republican businessman Kendall Qualls' campaign to become Minnesota governor. She is scheduled to appear on both former Fox News anchor Megyn Kelly's podcast, as well as the Fox News late-night show later this week."
I never heard of the woman until the Super Bowl. She's 57 and time to get out of TV for a woman. Michaels at 77 can still do play-by-play. Call it sexism, but that is what audiences prefer.
ITEM 11: The Daily Wire reported, "Bob Saget's Autopsy Raises Questions; One Doctor Says 'Consistent With Taking Baseball Bat To Skull.'"
Jodie Sweetin is a recovering druggie.
Lori Loughlin did time for bribing her daughter's way into college.
Candace Bure has "conservative views."
Now this.
Full House is cursed.
ITEM 12: The Hill reported, "Sen. Ben Ray Luján (D-N.M.) said on Sunday that he plans to return to the Senate in time to vote for President Biden's Supreme Court nominee.
"Luján, who suffered a stroke earlier this month, said in a tweet that he was grateful for the support he his family have received."
Good for him, bad for the country.
ITEM 13: Florida Today reported, "Pig heart transplant patient continues to survive, begins physical therapy."
Downside: he can no longer eat bacon, and now he stutters.
Th-th-th-th-that's all folks!
ITEM 14: Winsome Sears stepped up to meet the challenge.
She is the sole of the Virginia state Senate now.
ITEM 15: Andrew Trunsky reported, "West Virginia Democratic Sen. Joe Manchin blasted Dr. Robert Califf, President Joe Biden's nominee to lead the Food and Drug Administration, in a speech on the Senate floor Monday, saying that he shared blame for the opioid epidemic."
Manchin is standing up for West Virginia.
We have led the nation in opioid deaths for two long decades. Yes, it is on us, but Big Pharma made big money by being a big drug pusher.
I hope the Senate vote is a loud, long and unanimous NO!
ITEM 16: The New York Times reported, "A 25-year-old man was arrested on murder and burglary charges on Monday, a day after the police said he stabbed and killed a 35-year-old woman whom he had followed into her building in Lower Manhattan."
The New York Post reported, "Assamad Nash charged in Chinatown murder of Christina Yuna Lee."
Guess which paper ran the suspect's picture.
It's the one put the suspect's name in its headline.
ITEM 17: AOC in Texas, "Texas turning blue. Inevitable. Inevitable! It will happen."
Yes, when you strangle someone, they turn blue.
Don't ask me how I know that.
ITEM 18: Western Journal reported, "Biden Voter Whose Daughter Was Killed by an Illegal Immigrant Has Pointed Message for the President."
The message from Rhonda Exum was, "By him not being deported, it's like you telling me my daughter's life didn't mean anything."
Instead of worrying about Ukraine, Biden should protect our border.
We have gone from Trump to Chump.
ITEM 19: AP's spin on Biden reviving inflation after 40 years of relative dormancy?
"Biden has long-term inflation plan, but voter patience short."
Hamas is not the only one AP shields.
FINALLY, Pamela Anderson is the voice of reason on The View.