All errors should be reported to DonSurber@gmail.com
Saturday, April 02, 2022
Highlights of the News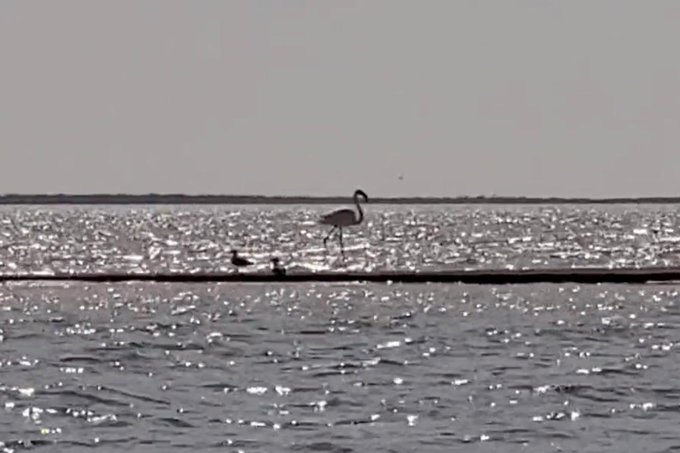 ITEM 1: The New York Post reported, "There's a zoo flamingo that flew to freedom 17 years ago and that bird is continuing its journey around the US.
"The flamingo, who has been nicknamed Pink Floyd, was recently spotted at Rhodes Point, which is a cape located in the eastern part Calhoun County, Texas."Even the flamingoes are headed for Texas.
ITEM 2: The Hill reported, "Historians and polling companies love to provide their assessments of past presidents, and to a lesser extent vice presidents. While it is still early in her tenure – so there's a chance she'll make a comeback – let's just say those future assessments of Vice President Kamala Harris's job performance will likely not be kind.
"It's remarkable, since the U.S. Constitution gives the vice president almost no duties to fail at — and yet failing she is.
So who will Democrats replace her with before they dump President Al Z. Heimer?
My guess is Hillary. Maybe Lurch.
ITEM 3: Polygon gushed, "Better Nate Than Ever is exactly what Disney Plus needed.
"It's big, bold, and brassy, and completely unashamed of itself."
It's about a high school boy who wants to be a Broadway star.
Don't stereotype him.
No, don't stereotype the lad.
"As far as sentiments go, the film's heart is in the right place. It's LGBT-positive in terms of representation and acts as a love letter to musical artistic expression."
OK, now you can stereotype — and you can pull the plug on Disney-Plus because it is like inviting groomers into your home.
ITEM 4: Whose copyright expires
In 20-24?
M-I-C
K-E-Y
M-O-U-S-E!
ITEM 5: Axios reported the White House traded Psaki to MSNBC for a PTBNL. The deal is effective in May.
She won't actually be on MSNBC. She will be on the streaming service Peacock, which is the news channel's version of CNN-plus. So she is now the equivalent of Chris Wallace in the news game.
Except she will be with a higher-rated channel.
ITEM 6: The Washington Post reported, "How Russian oligarchs are finding safe havens outside the West."
The Russo-Ukraine war has revealed the insignificance of Europe and the United States. We are old news. The world will revolve without or with us.
ITEM 7: A reader sent me an email, "Aphasia, Bruce Willis and Me."
He wrote, "When I returned from a trip to Minnesota in 2019, for the first time in my life, I had lost my sense of direction. I had gotten lost in Las Vegas and confused in Hibbing, Minnesota, Erick, Oklahoma, Fargo, North Dakota, and between Salem and Eugene, Oregon. I got back to L.A. and my doctor put me in the long white tube and diagnosed me as having Aphasia. It's not the end of the world but the end of road trips by myself.
"I spent my early childhood in a rural train Depot in Britt, Minnesota where my father was the Agent for the Duluth, Winnipeg, & Pacific Railway. I never got lost in the woods. I could see the sun through the trees and always found my way around. But that was then.
"What I've learned from my Aphasia is patience. When I've forgotten something, I just wait and let it come to me. It usually does, although in a business situation like a movie set with deadlines, you can't keep people waiting. I'm reading William Shirer's The Rise and Fall of the Third Reich with no problems. It's a book I've wanted to read since I was 10, but the local library never got a copy. My mother wouldn't let me buy it.
"So, I would just say Aphasia is not the end of the world."
I am blessed with the best readers in the blogosphere. My readers are unbelievably accomplished in just about every field except (wait for it) left field.
ITEM 8: Legal Insurrection reported, "Appeals Court Upholds Gibson's Bakery Massive Verdict Against Oberlin College."
One small step for justice, one giant leap over political correctness.
The story said, "A store clerk, a member of the Gibson family, caught an Oberlin black student shoplifting, a scuffle ensued that was joined by two other Oberlin black students. When the police arrived, they arrested the students who eventually pleaded guilty. But before that, the college officials and students accused the bakery of racial profiling, called a boycott, suspended Gibson's business with the college, and organized protests outside the bakery."
The dean of students should have apologized for the students' theft and thuggery.
Instead she libeled the victim.
The jury awarded $33 million in punitive damages and $11 million in compensatory damages. That's been rolled back to a mere $32 million.
ITEM 9: The Blaze reported, "Baltimore parents sue city after student graduates high school not being able to read; shocking number of students have failing GPAs."
No, parents, this is on you. If your 18-year-old cannot read, you failed.
Oh, the schools did too.
But the parents failed and the student failed as well.
Taxpayers should not spend another dime on these families. They already spent roughly $150,000 to produce two illiterates with diplomas.
ITEM 9: Move over Sweet Home Alabama. Fly away, Free Bird. Via Kane at Citizen Free Press, Lynyrd Skynyrd has a new song dedicated to the best governor in America.
​It's got a good beat and you can dance to it.
ITEM 10: Hot Air reported, "Dem doom: Biden's weakest racial demographic in new Quinnipiac poll is … Hispanics."
But our betters in the Republican Establishment told us we would lose the Hispanic vote fo'evah if we supported building the wall.
You know something? I am glad the media and other Democrats lied about Trump's racism and all that because that brands them as liars forever.
The best way to win minorities over is to act like Republicans and to expose Democrats for who they are.
ITEM 11: Bernie gets bro'ed.
Obamacare only helped insurance companies make more money.
ITEM 12: The Daily Beast whined, "Republicans Are Winning the Fight Against Abortion. Where the Hell Are the Democrats?"
Half were never allowed to be born.
ITEM 13: Will Smith quit the Academy of Motion Picture Arts and Sciences and said he will accept whatever punishment they hand out over slapping Chris Rock.
The former most-admired actor in America's only request is that they stop showing Hitch on the cable channels.
ITEM 14: NPR reported, "Sarah Palin files to run for the late Alaska Rep. Don Young's seat."
Elect her, make her House speaker, impeach and remove Dumb and Dumber, and voila! The nation is saved again.
ITEM 15: AP reported, "A man accused of killing six people and injuring dozens more when he allegedly drove his SUV through a Christmas parade in Waukesha says he doesn't feel safe in jail."
Well, it is safer than being in a Christmas parade in Waukesha.
ITEM 16: The New York Times reported, "Shaken at First, Many Russians Now Rally Behind Putin's Invasion."
Nothing brings together a nation quite like economic sanctions imposed by outsiders.
Indeed, the story said, "Polls and interviews show that many Russians now accept Putin's contention that their country is under siege from the West and had no choice but to attack."
Hey, Hillary was not the only creator of a Russian hoax.
ITEM 17: Just the News said, "Election cheating? Stefanik challenger admits being caught on video altering ballot petitions
"Lonny Koons admits to Just the News he altered petitions, quits race for New York's 21st congressional district."
Koons dropped out of the primary. Sounds like he'd make the perfect Democrat nominee.
ITEM 18: The Daily Mail reported, "The Biden administration announced Friday it will be lifting Title 42 restrictions as soon as next month, and Democratic Sen. Joe Manchin called. the plan 'frightening.'
"The move that was expected to trigger an onslaught of migrants at the southern border."
I'm with Manchin on this one.
FINALLY, IndieWire reported, "Razzies Rescind Bruce Willis' Worst Performance Award After Aphasia Diagnosis. The organization also took back Shelly Duvall's nomination for The Shining amid word of Stanley Kubrick's on-set treatment of her."
The Razzies were created to spoof the Oscars, but the Razzies now are more reputable than the Oscars, which awarded Will Smith a best actor Oscar even after he embarrassed the academy to the world.
Let's be honest, Smith's Oscar was to shut him up after his phony OscarsSoWhite campaign.
Posted by Don Surber at 4/02/2022 07:00:00 AM