Friday, July 01, 2022
Biden delivers his recession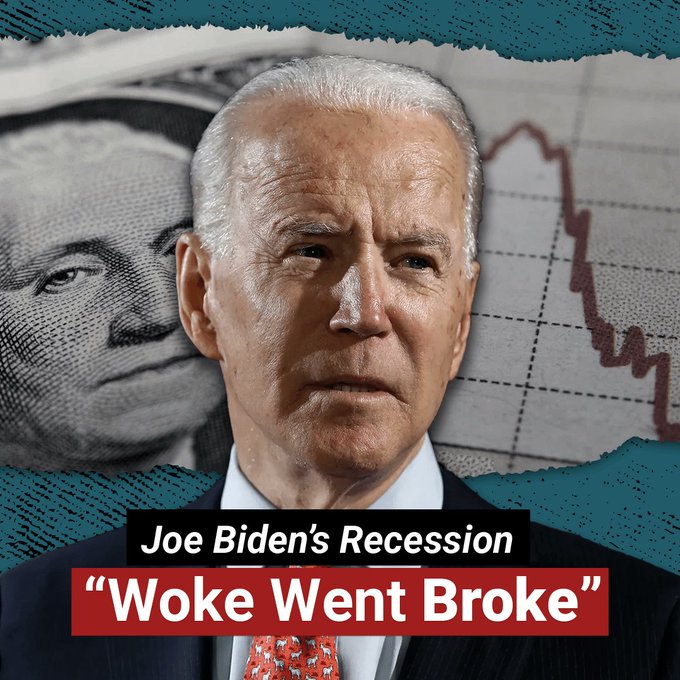 Biden is a better president — by Democrat standards — than Obama because FJB has shut the economy down. Democrats want to run a broken America. Look what they have done to our great cities: Washington DC, New York and San Francisco.Newsweek reported, "Economist Peter Schiff is warning that the United States will be facing an economic crisis worse than the Great Recession of 2008 following a new government report showing a 1.6 percent decrease in real gross domestic product (GDP) in the first quarter of 2022.
"In an interview with Newsweek, Schiff said he was expecting a recession last year 'so when we got that negative [GDP] number [today] it was pretty much what I was expecting.'
"He blamed both President Joe Biden and former President Donald Trump's administrations, as well as members of Congress, for signing off on trillions of dollars during the pandemic.
"'Joe Biden will soon be forced to admit that America's red hot economy has actually been in a recession all year, which will only get far worse with high inflation and more rate hikes,' Schiff posted on Twitter on Wednesday."
Fact check: Trump left Biden with a 1.4% inflation rate and 6.4% GDP growth.
A year later, Biden turned that to 8.6% inflation and a 1.6% shrinkage in the GDP.
Previously, Newsweek reported, "The combination of decades-high inflation, supply chain snags and astronomical gas prices have driven both economists and members of the public to declare that the economy is on its way to a recession, and one billionaire investor says we have already reached that point.
"In an interview Tuesday morning with CNBC's Squawk Box, ARK Invest founder CEO Cathie Wood told Andrew Ross Sorkin she and others were wrong about continuing inflation, in addition to supply chain woes that have become commonplace for over two years, with no discernible end in sight."
Wood fears the worst outcome possible: inflation becoming deflation, which will lead to a depression and not a recession.
She said, "Inflation has been a bigger problem, but I think it has set us up for deflation…. We think we are in a recession, and the real big problem out there is inventories…the increase of which I've never seen this large in my career, and I've been around for 45 years."
The White House spin is that no one could have predicted Ukraine.
But Biden's bungling of Ukraine is responsible for the economic fallout. Instead of telling Zelensky no, we won't give you NATO protection, FJB imposed economic sanctions on Russia, which backfired. The ruble grew stronger, the euro grew weaker and a bunch of drivers are asking, dude, where's my $3 gasoline?
Andy Puzder, retired CEO of the Carl Jr.'s and Hardee's fast-food chains, wrote, "While 3 in 4 Americans recognize that the economy is bad according to the latest CBS News poll, Americans are feeling economic pain every day at the gas pump and the grocery store. Whether we are already in a technical recession or not, a recession is what working- and middle-class Americans are experiencing – despite what Biden may believe.
"Unfortunately, this isn't the first time Biden has waved off a massive point of national angst. Almost one year ago, he said inflation was 'going to pop up a little bit and then go back down.' Now is at the highest rate in 40 years. As recently as April, Biden touted his economic performance claiming that the 'economy had gone from being on the mend to being the move.' No one should be fooled by his economic fantasies."
Wood and Puzder are far from alone.
Bloomberg reported, "Bob Michele kicked off his Wall Street career during the stagflation crisis of the early 1980s.
"More than four decades later, JPMorgan Asset Management's chief investment officer says the economic outlook today looks even worse — with a U.S. recession now looking more likely than a soft landing.
"Central banks are a long way from reversing the most flagrant excesses of the easy-money era while inflation looks ever-more entrenched, per Michele.
"His pessimism is reflected in an historically bad first half of a year that's just drawn to a close. Stocks and bonds around the world combined have fallen by the most on record, according to Bloomberg data going back to 1990, with $8 trillion wiped off the S&P 500 alone."
The smart money vacated the premises on Wall Street months ago.
The Democrat plan is to have a flunky destroy the economy so Gavin Newsom can rebuild it.
We shall see if Democrats get away with it.
One thing is for sure, more small businesses will fail.
Biden's recession will hurt women and minorities hardest.
Posted by Don Surber at 7/01/2022 11:00:00 AM