Monday, April 11, 2022
Congress grills Never Right Milley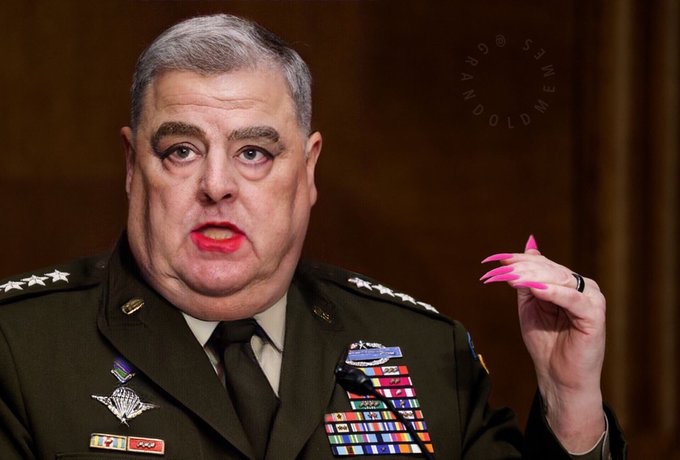 No one has dulled conservative support of the American military quite like Democrat General Milley. His promotion of PC seeks to weaken our military, while he has shown repeatedly he knows nothing about doing his actual job.
His defiance of President Trump should have gotten him canned, but Trump's unwillingness to fire anyone cost him his job. In June 2020, when rioters torched a church across from the white House, the next day President Trump walked to it carrying a Bible. Milley went along but cowered when people criticized him.
On June 11, 2020, NPR reported, "Gen. Mark Milley has apologized for appearing in a photo-op with President Trump after authorities used tear gas and rubber bullets to clear the area from peaceful protesters."
Wrong.
One year later, NPR reported, "The U.S. Park Police did not clear protesters from a park outside the White House so then-President Donald Trump could take a photo-op at a nearby church, an Interior Department inspector general's report found."
Two months later, Milley got Afghanistan all wrong leading to America's biggest humiliation since the Fall of Saigon.
On August 20, 2021, NPR reported, "The quick collapse of the Afghan National Army stunned many, including the Pentagon's top military officer, Gen. Mark Milley. He told reporters this week that the U.S. intelligence community estimated that if U.S. forces withdrew, it would be weeks, months, even years before the Afghan military fell to the Taliban.
"Instead, it was just 11 days.
"So what happened? How could U.S. officials be so wrong?"
Let me set aside that last question for now.
The third thing Milley got wrong was the Russo-Ukraine war.
On February 5, Fox reported, "Chairman of the Joint Chiefs of Staff Gen. Mark Milley told lawmakers that Kyiv could fall within 72 hours if a full-scale Russian invasion of Ukraine takes place, multiple congressional sources tell Fox News.
"Milley told lawmakers during closed-door briefings on Feb. 2 and 3 that a full-scale Russian invasion of Ukraine could result in the fall of Kyiv within 72-hours, and could come at a cost of 15,000 Ukrainian troop deaths and 4,000 Russian troop deaths.
"Several lawmakers expressed concern that the Biden administration did not respond quickly to provide Ukraine with significant military aid, such as anti-aircraft and rocket launcher systems that would defend against an invasion from Russia."
Nearly 72 days later, Russia appears to have given up on Kyiv.
Fox reported, "Milley's new Ukraine war prediction is stark departure from early forecast of '72 hour' takeover."
Now he's predicting the conflict will last for years.
Which is good news given his track record of being wrong, wrong, wrong.
Now back to NPR's question, "How could U.S. officials be so wrong?"
The answer is simply that no one in Washington ever pays a penalty for being wrong. Even NPR did not can Nina Totenberg for lying about the justices feuding over wearing masks at court hearings.
As any parent knows, you get what you tolerate.
Milley has squandered the Pentagon's credibility, which I believe is the plan. After Afghanistan, many a veteran no longer advises youths to do a hitch in the military.
Posted by Don Surber at 4/11/2022 03:00:00 PM