Tuesday, April 12, 2022
Dear Fearless Girl: Women control most of the wealth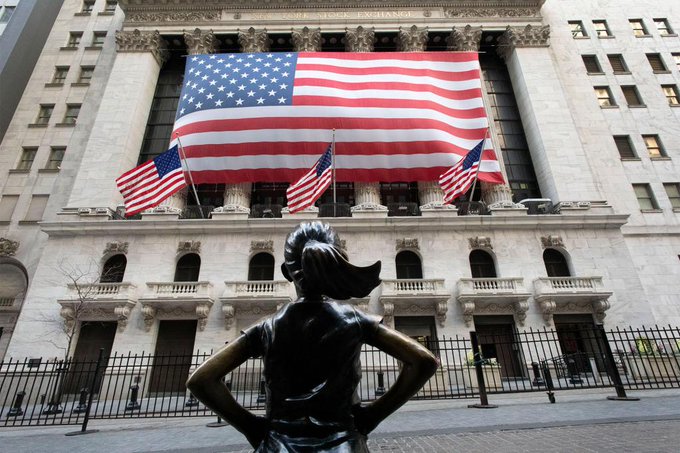 The New York Post ran another story today about that stupid Fearless Girl statue on Wall Street.The story said, "The 4-foot bronze Fearless Girl statue that was deposited in front of New York City's Charging Bull in 2017 will remain in its current spot opposite the New York Stock Exchange at least until early next year while city officials wrestle with a permanent disposition for the popular symbol of female empowerment, a city board decided Monday.
The actual symbol of female empowerment is the New York Stock Exchange itself.
Wealthtrack reported, "51% of the personal wealth in the U.S. is controlled by women – an estimated $22 trillion worth."
That report was from nearly 3 years ago.
Women likely are doing better now. They are better investors than men. While Dad was buying shares of Blockbuster, Mom kept buying P&G, a dull company that makes Tide, Crest and a host of other one-syllable household and personal products.
20 years later, Dad is borrowing from Mom.
Last October, CNBC reported, "On average, women investors achieve positive returns and surpass men by 40 basis points, or 0.4%, an analysis of annual performance across 5.2 million accounts from January 2011 to December 2020 shows."
Now that may not sound like much but 0.4% times $22 trillion is $88 billion.
Move over diamonds. The stock market is a girl's best friend now.
In November, Fortune reported, "Women may have left the workforce in droves to take care of their children when schools closed in 2020, but they sure didn't vacate the stock market.
"While their 401(k) contributions dwindled in some cases, women entered the equity markets at sky-high rates. Nearly 67% of women are investing outside of retirement accounts now, according to Fidelity's 2021 Women and Investing Study—that's up from 44% in 2018. Half of the 1,200 women surveyed said they're more interested in the markets now than they were at the beginning of the pandemic. And those trends are playing out within Fidelity's own customer base: There was a 43% increase in accounts opened by women in the three months ending in Sept. of this year compared to the same period in 2020, according to company data."
Women trust Wall Street, and why not? Capitalism is the best economic system for women because it transformed them from slaves to princesses.
Think about it.
Threshers ended women having to work the fields. Every labor-saving device — the dishwasher, the clothes washer, the dryer, the vacuum, et cetera — freed women from the drudgery of housework.
But with their Fearless Girl statue, socialists have tried to hijack women by turning them against capitalism.
The Post story said, "The statue of a spunky young girl was supposed to be a temporary installation when State Street commissioned it in 2017 to urge higher representation of women on corporate boards, but permits to keep it on display were extended several times once it became a major tourist attraction.
Why would women want more women on corporate boards? Men seem to be doing OK with the companies.
Eventually women will run the show. Less than 40% of college students are men.
But for now, women should be content to do 40 basis points better than men in the stock market and let the men do all the dirty work.
The reality is the only thing Fearless Girl should fear is a stock market crash because it will hit women hardest.
Well, maybe not. P&G did OK during the Depression.
Posted by Don Surber at 4/12/2022 11:00:00 AM