Thursday, December 23, 2021
She's right. They don't treat Kamala like a male VP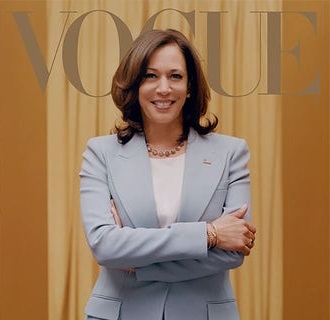 The New York Times chivalrously defended Kamala today with a lengthy story on her vice presidency. The spin is Biden used her to get elected and now wishes to discard her.Duh.
Paragraph 13 caught my eye, "Ms. Harris has privately told her allies that the news coverage of her would be different if she were any of her 48 predecessors, all of whom were white and male. She also has confided in them about the difficulties she is facing with the intractable issues in her portfolio, such as voting rights and the root causes of migration. The White House has pushed back against scathing criticism on both fronts, for what activists say is a lack of attention."
True.
Spiro Agnew never made the cover of Vogue.
The story glossed over her incompetence, which caused a rift that cost passage of Build Back Better this year.
A week into the presidency, Kamala gave an exclusive interview with WSAZ in West Virginia behind Joe Manchin's back. She also did an interview with a Phoenix station in Krysten Sinema's state as she sought to pressure them into supporting the first mega-trillion-dollar spendathon by Biden.
[That was the American Rescue Plan. It was followed by the bipartisan one. Now we have BBB as Democrats loot the federal government the way the mobsters looted the Bamboo Lounge in the movie Goodfellas. I would not put it past Democrats to burn the place down once they are done.]
Those were the only two local interviews she gave.
Manchin said, "I saw [the interview], I couldn't believe it. No one called me [about it]. We're going to try to find a bipartisan pathway forward, but we need to work together. That's not a way of working together."
Of course what protects Kamala is not sexism. The media got all over Palin for saying the vice president is the president of the Senate, which she is.
NYT was polite about pissing off Manchin, writing, "In Ms. Harris's case, she came to the job without strong ties to key senators; one person briefed on the Oval Office meeting said it would be more productive if the discussion between Mr. Biden and Mr. Manchin remained private. It is unclear that the president had much sway on his own, either, given the senator's decision this week to break with the White House over the domestic policy bill."
Manchin and Sinema never worked with Biden when he was a senator. Biden was never their colleague. Kamala's attempt to turn up the heat on them created a trust issue with the president. No one is dumb enough to believe Kamala did this on her own.
She is not ready to be president. The press tries to cover that up but it is painfully obvious now. Instead, excuses are made.
NYT said, "But the complexity of the issues she has been assigned, and the long-term solutions they require, should have prompted the West Wing to defend Ms. Harris more aggressively to the public, said Representative Karen Bass, Democrat of California and the former chairwoman of the Congressional Black Caucus."
Bass said, "What the White House could've done is been clearer with the expectations of what was supposed to happen under her watch."
If you cannot handle the vice presidency, we cannot expect you to handle the presidency. Biden put her in charge of the border. She is uninterested in it.
The story said, "Representative Henry Cuellar, a moderate from Texas and one of the more prominent voices on border issues in the Democratic Party, said his experiences with Ms. Harris's team had been disappointing."
Cuellar said, "I say this very respectfully to her: I moved on. She was tasked with that job, it doesn't look like she's very interested in this, so we are going to move on to other folks that work on this issue."
He no longer deals with her, calling the president's staff instead. He said, "at least they talk to you."
But Hillary was there to defend her. She said, "There is a double standard; it's sadly alive and well. A lot of what is being used to judge her, just like it was to judge me, or the women who ran in 2020, or everybody else, is really colored by that."
Yes, how dare they expect Hillary or Kamala to do their job!
Getting on the cover of Vogue should be enough.