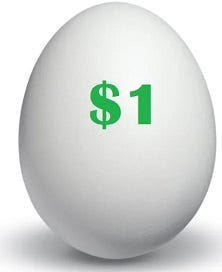 ITEM 1: AP reported, "Soaring U.S. egg prices put pressure on consumers, businesses."
Who could have predicted that?
Me. On June 2, I wrote, "Coming soon: The $1 egg."
Seven months later, they are $8 a dozen at Piggly Wiggly in Eleanor, West Virginia, which is 67¢an egg.
Eggs were $1.48 a dozen when Donald John Trump's presidency ended. That's a little over 12¢an egg.
ITEM 2: The Wall Street Journal reported, "Oil and Gas Are Back and Booming.
"The Haynesville basin in Louisiana and Texas is humming with drillers. Among them is Chesapeake, a fracking pioneer that was in bankruptcy just two years ago."
It is a boom-and-bust business that made 20th century civilization possible.
The story said, "U.S. production of natural gas—Chesapeake's focus—has hit record levels. The country's crude oil production remains shy of the 2019 level but is otherwise at a peak. Exports of both gas and crude are hitting new highs, easily outpacing overseas sales of aircraft, pharmaceuticals, food and cars. Exxon Mobil Corp.'s shares rose 80% last year.
"The Biden administration has limited drilling on federal lands, but oil and gas companies have tapped the nation's vast private shale reserves to drive production higher."
Hey kids, here's a fun fact: The highest-paying college major? Petroleum engineering.
Forget coding. Learn to frack.
ITEM 3: The New York Times reported, "Ukraine strips a wealthy pro-Russian politician of his citizenship."
The story said, "Ukraine has stripped Viktor Medvedchuk — a former oligarch and a close friend of President Vladimir V. Putin of Russia — of his Ukrainian citizenship, the government says, in an announcement that highlights Kyiv's effort to excise the influence of prominent pro-Moscow politicians within the country."
Zelensky means it when he says he is a freedom fighter. He is fighting freedom tooth and tong.
ITEM 4: Media-ite reported, "Biden Gets Assist on Fox News as Karl Rove Busts Out White Board To Explain Why Trump's Classified Docs Issue Is Worse."
Trump kept his at home. Biden put his at a college and made them available to Red China's scholars, and by scholars I mean spies.
ITEM 5: Post Millennial reported, "Second batch of classified documents discovered by Biden aides."
Why did President Obama give classified documents to someone on Red China's payroll?
I don't care if he was vice president, that just is not right.
ITEM 6: Breitbart reported that Republicans will investigate Biden over the classified documents found at his vice presidential library at Penn.
That's Trump's alma mater, which Biden was too stupid to attend. Red China bought this fake library and Biden repaid them with these documents.
Look for the FBI to clamp down on this harder on this than it did Hunter's laptop. The deep state will do all it can to thwart the investigation by calling it an open case, intimidating that Republicans are upsetting the case.
But Republicans have no choice but to pursue the matter. Going along to get along no longer works.
ITEM 7: PJ Media reported, "Insider Emails PROVE Efforts to Censor Tucker Carlson Came From the White House."
It was part of a coup d'etat by the intelligence committee to overthrow a duly elected president, Donald Trump.
The CIA and FBI screwed themselves when Twitter went public. Sure, it made their marionette, Jack Dorsey a billionaire, but it exposed them to a takeover and discovery. We shall see if Republicans are able to purge the intelligence community. In my dream world, Chris Wray stands trial for insurrection and sedition.
ITEM 8: The Blaze reported, "The ex-Virginia Tech soccer player who was allegedly penalized over her refusal to kneel during a 2020 Black Lives Matter protest will reportedly be awarded a $100,000 settlement."
More good news.
The story said, "Kiersten Hening claimed that she had lost her starting position on Virginia Tech's Hokies women's soccer team after she elected not to take part in a so-called pre-game unity ceremony on Sept. 12, 2020, in support of the scandal-plagued BLM movement."
The coach benched her for refusing fealty to black supremacists. Settling the case makes sense in light of Oberlin forking over $36 million to a bakery it libeled as racist.
ITEM 9: AP reported, "After years of surpluses, California headed toward a deficit."
Governor Brylcreem has a $22 billion hole in his budget despite having the nation's highest income tax rate at 13.3%. Maybe he should roll it back to zero.
The New York Post reported, "Texas hits record $33B budget surplus."
Texas has no state income tax. Its surplus is more than $1,000 per Texan.
ITEM 10: Red State reported, "Ron DeSantis Puts the Kibosh on Chinese Investors Purchasing Property in Florida."
It is bad enough he has to put up with Disney.
We no longer want Red China in West Virginia either.
ITEM 11: Life News reported, "House Republicans Pass Bill to Stop Infanticide, Protect Babies Who Survive Abortions."
The people who won't execute murderers want to kill babies. we can argue all day about the first trimester and viability. But if you survive an abortion, you are a human being and anyone who kills you is a murderer.
ITEM 12: The Daily Mail reported, "Dirty bomb fears as 'several kilos of URANIUM' is found in cargo at Heathrow: Package 'shipped from Pakistan to UK-based Iranians' is at center of Met Police anti-terror probe after being discovered when it triggered airport alarms."
The dirty bomb fear alone is terrorism.
ITEM 13: AP reported, "Air travel across US thrown into chaos after computer outage."
A computer hacker can do more damage than a bomb. I wonder who is behind this attack. Russia? Red China? Iran? Biden?
ITEM 14: Vice reported, "Some Trans People Are Preparing to Flee the US and Seek Asylum Abroad."
Thank God and Greyhound he/she is gone.
A reader suggested they take a Trans-Atlantic flight.
ITEM 15: The Daily Mail reported, "NASA's James Webb discovers its first PLANET just 41 light-years away — and it is similar to Earth."
41 light-years away?
Maybe the Lord does not want us meeting other inhabited planets just yet. He waited until 1492 till Columbus rendezvoused with a new world.
ITEM 16: Fox reported, "Supreme Court Justice Scalia was 'basically' a member of Ku Klux Klan, Emory law professor claims."
Emory is in Atlanta. The Klan was in Georgia, voted Democrat and hated Catholics.
Who is the klansman again?
ITEM 17: Breitbart reported, "Sen. Mitch McConnell (R-KY) is the nation's most unpopular senator, followed by Democrat defector Sen. Kyrsten Sinema (I-AZ)."
Between the two of them are the three biggest boobs in Washington.
ITEM 18: The New York Post reported, "Mom Allison Holthoff dies after waiting seven hours in Nova Scotia ER."
That is how you pay for free health care.
FINALLY, I am still posting on my blog.
Just not as often. One or two posts a day.
And yes, I still want all errors reported to donsurber@gmail.com