Thursday, December 23, 2021
Highlights of the News
I was never much of a fan of Megyn Kelly, but since she left NBC, I like her. I hope Fox is smart enough to hire her back when she becomes a free agent again in 2022.
ITEM 1: Breaking 911 reported, "Illinois State Sen. Kimberly Lightford was carjacked Tuesday night in the Chicago suburb of Broadview, officials said."
Breaking 911 reported, "Congresswoman Mary Gay Scanlon (D-PA) was carjacked and robbed at gunpoint in South Philadelphia on Wednesday."
I hope the women are all right.
The Hill reported in February, "Congress wants to make it easier for state and local governments to defund the police by instead funding mental health services and empowering them to respond to emergency calls instead of armed officers."
Scanlon was one of the 3 main sponsors in the House. Lightford also is pushing a 611-page "criminal justice reform" bill in Springfield.
Democrats want to increase crime with the ultimate goal of creating a police state.
ITEM 2: AP reported, "The White House downplayed a statement by the U.S. Secret Service that nearly $100 billion at minimum has been stolen from covid-19 relief programs, saying Wednesday that the estimate is based on old reports."
Nothing to see here, Biden says. That means the money went to Democrats.
ITEM 3: Politico reported, "many White House aides are feeling gloomy this holiday season, so much so that they anonymously fumed to West Wing Playbook in the hope it may alert senior leaders to the problem.
"Many are also currently eyeing the exits, creating the potential for higher-than-usual turnover at the beginning of the year, when aides feel they've been in the job long enough that it won't look odd to depart."
Maybe the White House has too many responsibilities. Maybe it should cut back its workload. You know, let the states decide how to handle covid. Let the car companies decide whether to go electric and how soon. Let Congress write laws.
However, the story also said, "Some staffers say it's the result of an insular, top-heavy White House of longtime Biden aides who are distant from much of the staff — 'no new friends in Biden world,' goes the refrain. And others say it's just poor management."
Biden has all the presidential qualities to make a good senator — in the Delaware Statehouse.
ITEM 4: The Epoch Times reported, "South Dakota Gov. Kristi Noem has unveiled a draft legislation which she said would block critical race theory as the basis of education in her state's colleges and schools."
That sounds promising.
If you can ban school prayer, you can ban this junk.
ITEM 5: President Trump 2020, "Merry Christmas!"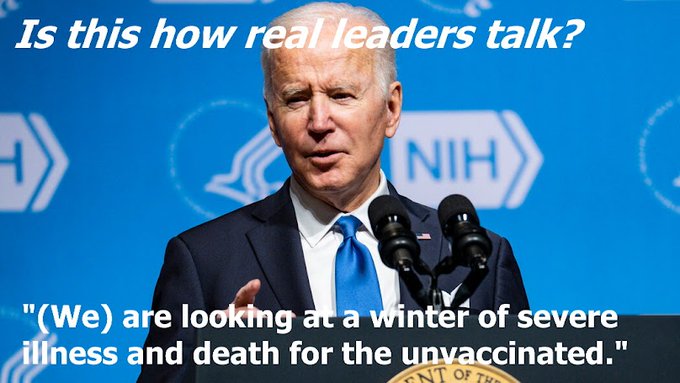 Biden 2021, "Yippie-Ki-Yay, M***** F*****!"
ITEM 6: The Daily Wire reported, "Biden Claims Economy Today Is Stronger Than Before Pandemic."
Unemployment was 3.5% and inflation was 3.2% in February 2020 for a Misery Index of 6.7
Trump left Biden with 6.2% unemployment and 1.4% inflation for a Misery Index of 7.6. 
Unemployment was 4.2% and inflation was 6.8% in November for a Misery Index of 11.
ITEM 7: The Epoch Times reported, "Former New York Times reporter Alex Berenson sued Twitter this week, alleging his permanent suspension from the social media platform violated the U.S. Constitution's First Amendment and federal and California laws."
The story said, "While Twitter has in the past relied on Section 230 of the Communications Decency Act to defend itself against similar suits, the law does not shield the company from California's Constitution or a common carrier law in the state, according to the suit.
"Additionally, Section 230 does not protect Twitter from claims of breach of contract and promissory estoppel, which rely in part on the representations the company made to him prior to the ban."
The phone company cannot drop you because it does not like what you are saying. If Twitter wants Section 230 protection, it has to follow the same rule.
ITEM 8: Newsweek reported, "Mitch McConnell: If Joe Manchin Switched Parties, He Would Join Folks With Similar Views."
Just what America needs: another RINO.
ITEM 9: The Hollywood Reporter reported, "Michael Keaton is answering the Batsignal once again.
"The actor has joined Batgirl, the HBO Max film from Warner Bros. and DC centering on fan-favorite hero Barbara Gordon. Keaton is expected to reprise his role as Bruce Wayne/Batman, which he originated in Tim Burton's 1989 Batman and played again in 1992's Batman Returns.
"Keaton is also reprising his role in The Flash, starring Ezra Miller and due in theaters Nov. 4, 2022."
It was either that or reprise another role as Mr. Mom, this time as Mr. Grandma.
ITEM 10: CNBC reported, "The Supreme Court late Wednesday agreed to hear legal challenges to the Biden administration's covid-19 vaccine mandates for large employers and health-care facilities.
"The court, in an order, said that its consideration for requests to stay those mandates would be deferred until oral argument on January 7
I hope there is a one-word, unanimous decision that simply states: No.
I don't want legalistic mumblety peg. The mandates are wrong. No further explanation is necessary.
ITEM 11: People magazine reported NBC will eschew Times Square, and instead ring in the new year from Miami.
Better music, better weather, and no mask mandates.
Newsweek reported Fox dropped its New Years Eve telecast altogether.
ABC and CBS will stick it out in masks and overcoats. I hope it rains.
ITEM 12: Alpha News reported, "Mankato schools vote to allow extra pay for non-white teachers.
"The Mankato School Board voted earlier this month to allow the district to intentionally place BIPOC teachers in the same work environment — effectively segregating their workforce."
That's in Minnesota.
Systemic racism is real as Democrats turn it against white people because Democrats always want someone to be second-class citizens.
ITEM 13 Between Kaepernick and LeBron James, the sports world is in the crapper. But a golf GOAT gives us hope.
ITEM 14: NTD News reported, "Covid-19 vaccine mandate deadlines have come and gone, but the U.S. military has still not approved a single religious exemption.
"Lawyers representing troops seeking exemptions say the military is violating the U.S. Constitution and the Religious Freedom Restoration Act and are urging courts to intervene."
We screwed up when we failed to reduce our military after the Soviet Union collapsed. If we had, social justice warriors like Milley would left for a more lucrative career elsewhere, and real soldiers would have stayed.
ITEM 15: Hong Kong Free Press reported, "Workers at the University of Hong Kong removed the Tiananmen Massacre monument late on Wednesday night, months after the university said the statue must go."
Tragic.
December 11, 2001, began the downfall of the West. That was the day George Walker Bush allowed Red China to join the World Trade Organization.
FINALLY, MSN reported, "A 911 operator in Philadelphia and the woman she coached through childbirth over the phone met for the first time Tuesday on the Today Show.
"Charlotte Fatoma went into labor while driving herself to the hospital last month, prompting her to call 911, where dispatcher Elyce Rivera — only four weeks into her job — picked up the phone. Rivera guided Fatoma through the delivery as she sat in the car on the side of the highway.
"When they finally met, Fatoma said she named the baby Elizabeth Elyce in honor of Rivera and then asked if she would like to be the baby's godmother. She happily accepted the offer."
Two more shopping days till Christmas.
I'll be here on Christmas. I may have some Bentley news.
Don Surber at 12/23/2021 07:00:00 AM