All errors should be reported to DonSurber@gmail.com
Saturday, April 16, 2022
Highlights of the News
ITEM 1: The New York Post reported, "The namesake nephew of bloodthirsty Boston mobster Whitey Bulger worked closely with Hunter Biden in his Chinese business ventures, according to emails reviewed by The Post."Jim Bulger, chairman and co-founder of the Boston-based Thornton Group financial advisory firm, forwarded an email in January 2014 from associate Mike Leonard proposing a meeting among Hunter Biden — whose father, Joe Biden, at the time was vice president of the United States — Bulger, and Rosemont Seneca co-founder Devon Archer.
"The email sent on Jan. 27, 2014 — with a subject line that read, 'Meeting with Chinese Ambassador' — suggested the group meet in Washington, DC, to 'talk about the fund,' according to the message."
Jim Bulger's dad — Whitey's brother — was president of the Massachusetts Senate when Whitey used the FBI to clear the field of his competitors. Eventually the law and John Durham caught up with Whitey and the FBI. Whitey was murdered in a federal prison.
The Democrat Party is a racketeer-influenced criminal organization. The Big Guy was Obama, not Biden. Obama oversaw a secretary of state (Hillary) who sold favors to foreigners who donated to her fake charity.
And Biden was his vice president.
Excuse me. I have to take a shower after reading that story.
ITEM 2: Economist Jason Furman reported, "The U.S. economy has been enjoying the fastest job growth in almost four decades. Unfortunately, inflation-adjusted wages are falling faster than they have in 40 years. Inflation ran 8.5% in the year ending last month, while nominal wages grew only 5.6%, a decline in inflation-adjusted wages of 2.7%. This presents a serious challenge to the hot economy thesis that tighter labor markets lead to rising real wages. This idea has never been as popular among academic economists as it is among Washington policy makers. A hot economy is surely better than a cold one, but the costs of an overheating economy might be larger than policy makers have appreciated.
Unlike the 1970s inflation, the government won't be able to blame it on union wages.
Reagan and Trump were the only presidents in my memory who oversaw wages rising for low-income workers faster than any other group.
Both ran on making America great again.
Let's get a younger Trump to run in 2024. Someone named Ronald would have a nice ring to his name.
ITEM 3: The New York Post reported, "Rep. Maxine Waters (D-Calif.) shelled out $24,000 in campaign funds to her daughter for work on the lawmaker's re-election campaign in the first quarter of this year, according to records from the Federal Election Commission.
"The records indicate that Karen Waters was paid by her mother's campaign committee, Citizens for Waters, in installments of $5,000 and $3,000 for slate mailer management fees.
"Karen Waters was paid a total of $8,000 on Jan. 5, Jan. 31 and March 21.
"In all, the younger Waters has received more than $1.2 million since 2003 for campaign services, according to Fox News."
The LA Times should be ashamed to be scooped like this.
Support local journalism because it holds local officials accountable.
Unless they are Democrats.
ITEM 4: The Wall Street Journal reported, "The Biden administration announced lease sales for oil and gas drilling on federal land Friday, but said it would sharply reduce the acreage available for leases and charge higher royalties on the oil and gas produced.
"The Interior Department said it would make roughly 144,000 acres available for oil and gas drilling through a series of lease sales, an 80% reduction from the footprint of land that had been under evaluation for leasing.
"Companies will also be required to pay royalties of 18.75% of the value of what they extract, up from 12.5%. Royalties for onshore oil and gas drilling generated about $1.5 billion to $3 billion a year for the U.S. Treasury during the last decade, according to the Congressional Research Service."
This is a fig leaf.
12.5% royalties are the norm. Arbitrarily upping it like this makes drilling less feasible. Biden will then get to blame drillers when no one bids.
ITEM 5: Fox reported, "Government preventing Musk's Twitter offer is 'very real threat': Former SEC chair."
Former SEC Chairman Harvey Pitt said, "My concern is that this administration is pretty much guaranteed to oppose this kind of bid. But I think the danger that the government or Congress might intercede in order to prevent this takeover is a very real threat."
Our government no longer protects our rights. It bans them. More than a year after the protest inside the Capitol, dozens of dissidents remain in the gulag.
ITEM 6: The New York Post reported, "The front-runner in Iowa's Democratic US Senate primary will be on the June ballot after all after the state Supreme Court overturned a judge's ruling that she didn't have enough valid signatures on her nominating petition.
"Abby Finkenauer's campaign appeared to have been dealt a devastating blow earlier this week when Polk County District Judge Scott Beattie ruled she had failed to submit a petition with at least 100 signatures from each of at least 19 counties.
"However, the Iowa Supreme Court ruled that Finkenauer had met the requirements, affirming a previous decision made by an election panel, according to the Des Moines Register. 
"That panel had found in March that Finkenauer's campaign had barely met the county requirement, garnering 100 signatures in one jurisdiction and 101 from each of two others.
"Republicans had challenged the validity of the signatures and Beattie had sided with them, ruling that three signatures did not include the date and thus could not be counted against the county requirement."
Once again, a court finds rules are for Republicans and little people.
ITEM 7: AP reported, "A South Carolina prisoner scheduled to be the first man executed in the state in more than a decade has decided to die by firing squad rather than in the electric chair later this month, according to court documents filed Friday."
That's nice.
The man he murdered did not get a choice.
James Mahoney, 42, was a clerk at at Nikki's Speedy Mart in Whitney, S.C., when the murderer (Richard Bernard Moore) walked in at 3 a.m. on September 16, 1999. He shot and killed Mahoney. He stole $1,408. Trey Gowdy tried the case.
It took the jury 2 hours to convict the murderer and it will have taken the state 22 years to carry out his sentence — if there is not another appeal and delay by the courts.
USA Today reported, "Gowdy, Principal Deputy Solicitor Barry Barnette and Deputy Solicitor Donnie Willingham flew in several court officials from Michigan who testified to Moore's convictions there on weapons and burglary charges in the 1980s.
"Former Spartanburg County resident Michelle Crowder testified that Moore punched her in the neck in 1991 in an effort to steal her purse, then kicked her repeatedly in the head and back after she fell on the purse.
"When Crowder's fiancé came to her rescue, she said, Moore beat the man so severely that he had to be hospitalized. Valerie Wisniewski, another former Spartanburg County resident, testified that Moore once robbed her while she worked in a shoe store. Prosecutors also disclosed that Moore had pleaded guilty to assault and battery of a high and aggravated nature against a female in 1997.
"In his closing argument, Gowdy said Moore had cut a wide criminal swath over the past 15 years, leaving many victims in his wake. 'He's had chance after chance after chance,' the prosecutor said. 'James Mahoney had no chance.'"
AP barely mentioned Mahoney.
But AP said, "Moore's supporters have argued that his crime doesn't rise to the level of a death penalty offense. His appeals lawyers have said that because Moore didn't bring a gun into store, he couldn't have intended to kill someone when he walked in."
Moore's supporters include AP.
ITEM 8: The Wall Street Journal reported, "When Walt Disney Co. Chief Executive Bob Chapek explained his decision to stay silent on Florida's Parental Rights in Education bill, known by its opponents as the "Don't Say Gay" legislation, he told employees in a March letter that he didn't want Disney to become a political football.
"More than a month later, that's exactly what Disney has become, nowhere more than in the Sunshine State.
"Some Republican lawmakers in Florida are threatening to end a special tax district that has allowed the company to effectively govern the land on which Walt Disney World sits for decades. Members of Congress have called for Disney to be stripped of its original Mickey Mouse copyright."
Not until Paragraph 5 did WSJ admit that Chapek campaigned against the bill which is now a law.
Disney's Mickey Mouse copyright was set to expire in 1984. Disney played politics. Now the copyright does not expire until 2024.
WSJ should lead the campaign to end the copyright not because of Disney's politicking but because no company should be above the law like that.
ITEM 9: I don't want to pick on the feeble-minded today, but Breitbart reported, "ESPN's lengthy report on NBA owner Joe Tsai alleges that L.A. Lakers star LeBron James was more worried about his Space Jam II profits than helping the oppressed pro-democracy movement in Hong Kong.
"The article detailing the deep ties Brooklyn Nets owner Joe Tsai has to the despotic communist Chinese regime gives greater detail over how James raged to pals about Rockets manager Daryl Morey's pro-Hong Kong tweet back in 2019 because James worried that his movie, Space Jam II, might not get released in China after Morey was seen supporting the liberty movement in Chinese-owned Hong Kong."
There were no profits. The movie was a mess that intermingled Warner Brothers characters with Hanna-Barbera characters and Wonder Woman.
In trying to outdo Michael Jordan, LBJ showed how great Jordan was and is. Jordan never tried to get someone fired for daring to speak out against slavery.
The original LBJ may have said the N-word in private, but he did more for civil rights than any president not named Lincoln. This one should take note.
ITEM 10: Democrat Senator Dianne Feinstein responded to a San Francisco Chronicle report that she is too old and feeble-minded to carry out her duties.Her staff issued a written statement that said, "The real question is whether I'm still an effective representative for 40 million Californians, and the record shows that I am."
Actually speaking to and engaging with the press would show that. A press release shows the opposite.
ITEM 11: National Review reported, "Former President Trump endorsed GOP candidate J. D. Vance in Ohio's Senate race on Friday."
Last week it was Mehmet Oz. This week Vance. Who will it be next week? Hillary?
He's embarrassing his supporters.
ITEM 12: The New York Post reported, "Private equity giant Thoma Bravo is working on a possible bid for Twitter, a source close to the situation told The Post — setting up what could be a rival to Elon Musk's offer for the embattled social network.
"'They are making a push,' the source said of the private-equity firm that already owns tech names including McAfee and Landesk.
"It's not clear how much Thoma Bravo might bid or when it might make an offer. The firm has an internal team working on the potential transaction, the source familiar with the matter told The Post."
Part of me says no one learned from the dot.com bubble but the point here is not to make money but to shape public opinion.
ITEM 13: The American Wire reported, "After helping hundreds of teenagers transition, a transgender clinical psychologist is concerned that the recent explosion of youths identifying as trans or non-binary may be the result of peer pressure and a lack of rigid mental health evaluations.
"Now, says Dr. Erica Anderson, a former clinical psychologist at the University of California San Francisco's Child and Adolescent Gender Clinic, social influences coupled with lax evaluations are leading to more teens taking hormones and undergoing surgeries before they are truly certain that they want to transition.
"Anderson, now 71, transitioned when she was 45. She says it is unrealistic to think peer pressure doesn't play a part in a teen's decision-making process, and it's time to take a step back and evaluate what is really going on."
45 is a lot different than 4 or 5.
Good for her for speaking out.
ITEM 14: Just the News reported, "Indiana Attorney General Todd Rokita announced he's leading a 19-state coalition in a legal fight against the Biden administration's refusal to comply with the Remain in Mexico policy, asking the Supreme Court to keep the policy in place to protect states from a tidal wave of illegal immigrants."
Indiana don't want you.
Lord, you can't go back there.
ITEM 15: Gallup reported, "Joe Biden's recent job approval ratings, which are averaging 14 points lower than those early in his presidency, have declined far more among younger than older generations of Americans. In fact, Biden's job approval has changed relatively little among baby boomers and not at all among traditionalists. As a result, older Americans are now more likely to approve of the president than younger Americans are."
Flashback to September 13 when some guy in Poca, WV, wrote, "The Fuck Joe Biden chants at football games show an open and obscene contempt and disregard for Democrats and the man they installed as president. These spontaneous eruptions of profanity are making it hip to hate Democrats, which may create a Generation Trump."
ITEM 16: AP reported, "The Wisconsin Supreme Court on Friday adopted Republican-drawn maps for the state Legislature, handing the GOP a victory just weeks after initially approving maps drawn by Democratic Gov. Tony Evers.
"The court reversed itself after the U.S. Supreme Court in March said Evers' maps were incorrectly adopted, and came just as candidates were about to begin circulating nominating papers to appear on this year's ballot without being sure of district boundaries.
"Democrats would have made some marginal gains under Evers' plan, but Republicans were projected to maintain their majorities in the Assembly and Senate, according to an analysis from the governor's office."
The courts should not be involved in redistricting. It is a partisan endeavor that the courts should avoid.
ITEM 17: Media-ite reported, "Former Atlanta Mayor turned CNN political commentator Keisha Lance Bottoms tweeted on Friday afternoon, claiming that she was denied dining at a Capital Grille restaurant in Buckhead, Atlanta for wearing leggings.
"Bottoms expressed frustration with being turned away from the restaurant, but the Capital Grille has long been known to enforce their dress code. On the upscale steakhouse's website, they issue a 'polite notice,' reminding guests that 'proper dress is required' and explain that enforcing the dress code is necessary in order to deliver on their 'promise of a refined atmosphere.'
"'Thank you for not wearing: gym attire, sweatpants, tank tops, hats, clothing with offensive language or images, exposed undergarments,' is printed clearly on the Capital Grille site."
I don't know which is worse, living in a city where that has to be spelled out, or living in a city whose former mayor does not read.
Jemele Hill defended her.
Of course.
ITEM 18: No excitement without an indictment finally has evolved to no celebration without incarceration, but word is, Christopher Steele received immunity from prosecution. We shall see.
Ah, but does he get immunity from Arkancide?
FINALLY: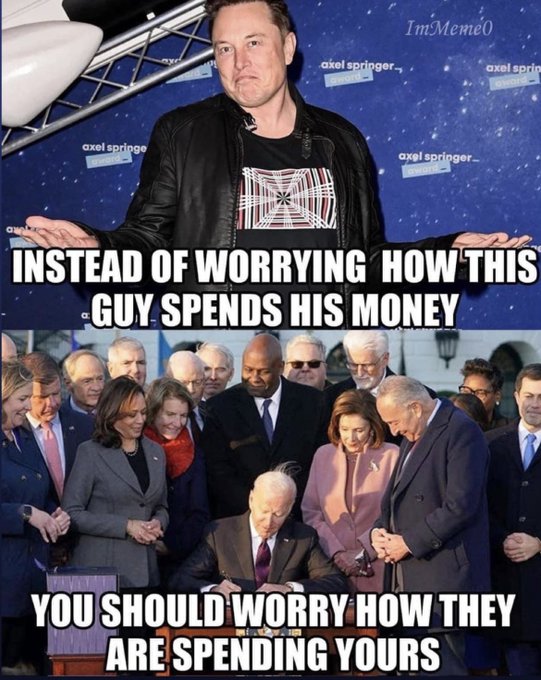 Posted by Don Surber at 4/16/2022 07:00:00 AM