Tuesday, August 30, 2022
NYT gleefully reports WaPo woes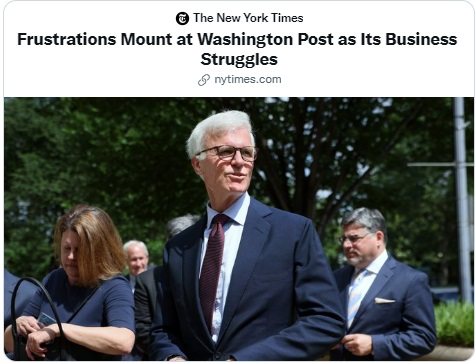 The Washington Post is losing money and none are happier than the staff at NYT. Ever since WaPo scooped in 1971 to publish classified material on Page One in the Pentagon Papers caper, the two have battled to be the Newspaper of Record.Today, NYT reported, "Frustrations Mount at Washington Post as Its Business Struggles
"With digital subscriptions and digital advertising revenue stagnating, the company is on pace to lose money this year."
The bottom line is the end of the Trump presidency hurt WaPo's bottom line.
The story began, "In the years after Jeff Bezos bought The Washington Post in 2013, business boomed. Droves of readers bought digital subscriptions, and the newsroom roughly doubled in size, adding hundreds more journalists.
"But The Post's business has stalled in the past year."
The end of the Trump presidency ended the media brief renaissance in audiences and advertising.
WaPo is on track to post a loss this year. Fred Ryan, the chief executive and publisher, may drop its newsroom staff from 1,000 down to 900 — still well above where it was when Bezos bought it nearly a decade ago.
The story said, "The Post now has fewer than the three million paying digital subscribers that it had hailed internally near the end of 2020, according to several people at the organization. Digital ad revenue generated by The Post fell to roughly $70 million during the first half of the year, about 15% lower than in the first half of 2021, according to a recent internal financial document reviewed by The New York Times."
Well, things are tough all over, right?
The story said, "The New York Times and The Wall Street Journal have added subscriptions since Mr. Trump left office."
The in-fighting has begun.
The story said, "The downturn at The Post has set off frustration internally. Some top executives are concerned that Mr. Ryan, picked by Mr. Bezos to be the publication's top business executive, hasn't moved decisively enough to expand coverage. Some have also become irritated by the company's halting marketing efforts, which are guided by Mr. Ryan, and inconclusive talks about acquiring another large news organization.
"Mr. Ryan's focus on productivity and office attendance in the newsroom has also been a source of tension. He has expressed his belief to members of his leadership team that there were numerous low performers in the newsroom who needed to be managed out. He has monitored how many staff members come into the office, and has weighed new measures to compel people to return to work, including threats of firings, according to several people at The Post."
He sounds fun.
Then again, showing up for work is not a tough requirement.
Sally Buzbee, executive editor, told NYT that she plans to hire another 150 employees and top 5 million subscribers by 2025. That would be a 67% increase in just 3years. Sounds like she is banking on a second Trump presidency.
She said, "There's no question that we need to diversify what people come to us for. That's our whole strategy."
I won't be so gauche as to suggest it hire a few pro-Trump columnists. Heck, we don't need no steenking newspapers because we can make more money on our own on the Internet.
No, WaPo needs to diversify what it offers. News is boring. I suggest WaPo offer what DC readers really want: an OnlyFans-style section for drag queens. Maybe it can run serialized versions of Gender Queer and other books conservatives object to having in school for pre-teens.
But NYT reported its rival is addicted to Trump.
The story said, "The Post's efforts to diversify its journalism beyond political coverage extends back until at least the summer of 2016. At that time, senior editors considered a plan that would expand the newspaper's coverage to temper a decline in readership during what they thought would be the presidential administration of Hillary Clinton, according to two people with knowledge of the proposal.
"The plan, code-named Operation Skyfall, was set aside after Mr. Trump won the presidential election.
"As the importance of moving beyond Washington coverage became more urgent over the past year, Mr. Ryan has given some mixed signals about how ambitiously he wanted to move."
In moving heaven and Earth to dethrone Trump, WaPo and the rest of the media killed their golden gander. The media's unwillingness to treat Biden like they treated Trump has led to a loss of interest by the American public.
Ah, Trumpenfreude. Sure WaPo got a few Pulitzers out of smearing him. But Pulitzers don't pay the bills.
Posted by Don Surber at 8/30/2022 03:00:00 PM