Monday, February 14, 2022
NYT refuses to mention Trump in story about peace he brought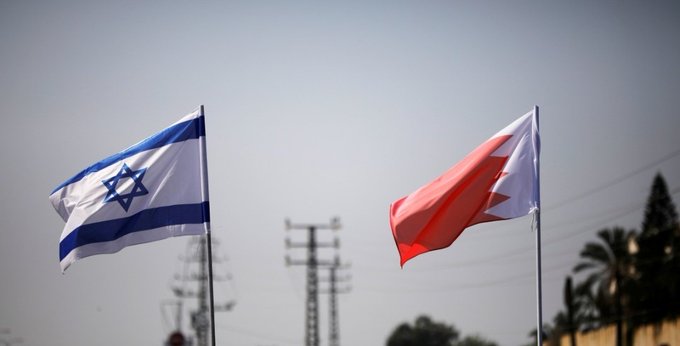 The New York Times posted, "Israeli Leader to Make Historic Visit to Bahrain, Deepening New Ties."
The story is remarkable because it ignores President Donald John Trump's role in bringing the two nations together.On September 15, 2020, the foreign ministers of UAE and Bahrain, Israeli prime minister Benjamin Netanyahu, and President Trump signed the Abraham Accords, which normalized Israel's relationship with UAE and Bahrain. Sudan and Morocco later signed on.
Fear of Iran is bringing the nations together. There is nothing like a common enemy to bring countries together. The USSR is why we formed NATO, which has been looking for a foe ever since the Soviet Union collapsed in 1991.
The refusal by NYT to mention Trump or the peace he helped bring about is a continuation of the anti-Trump propaganda campaign the newspaper launched in 2016.
To those who know the full story, the story was downright comical.
NYT's tale began, "Prime Minister Naftali Bennett on Monday was to become the first Israeli leader to embark on an official visit to the small Gulf state of Bahrain, a historic trip that highlighted the strengthening ties between Israel and some Arab governments.
"Mr. Bennett's visit, unthinkable a few years ago, builds on a diplomatic thaw that began in 2020 when Israel forged formal ties for the first time with Bahrain and the United Arab Emirates, and improved its relations with two other Arab states, Morocco and Sudan."
Yep, just like that — out of the blue — Muslim nations began making peace with Israel after 72 years of its existence.
Obama got a Nobel Peace Prize for his first 12 days as president (really, that was all the time covered by the prize) while Donald Trump put in a full four years of peacemaking in which he brought countries together and also was the first president since Carter not to start a war.
And unlike Biden, Trump did not turn over a country to a ruthless regime and call it peace.
Failing to credit where credit was due President Trump was a good marketing tool because it is doubtful that the Drudge Report would have linked a story praising Trump's efforts in bringing these nations together.
His son-in-law Jared Kushner, who brokered the deal, also received no notice in NYT's version of the truth.
In its account of the historic event, Hamas-shielding AP managed to mention the Abraham Accords in Paragraph 3 but failed to credit President Trump.
Instead, AP tried to credit Obama for a peace that he opposed. Obama was the most anti-Semitic president since Woodrow Wilson.
AP said, "Israel, along with its new Gulf allies, is watching closely as diplomats from the United Kingdom, Germany, France, China and Russia are currently negotiating with Iran in the Austrian capital over its nuclear program. American diplomats are indirectly involved in the talks.
"The Vienna negotiations are working to revive the 2015 nuclear accord between Iran and six world powers. That agreement, launched by President Barack Obama, granted Iran relief from stifling sanctions in exchange for curbs on its nuclear program.
"But three years later, President Donald Trump, with strong encouragement from then-Israeli Prime Minister Benjamin Netanyahu, withdrew from the deal, causing it to unravel. Since then, the U.S. has reimposed sanctions and Iran has stepped up its nuclear activities — amassing a stockpile of highly enriched uranium that goes well beyond the bounds of the accord."
There is a perfect explanation for AP trying to make Trump the villain. Iran funds Hamas. AP served as a human shield in Gaza City by having its office in a building that housed Hamas's intelligence service. When Israel finally had enough of Hamas bombing it, it called AP, gave them an hour to evacuate, and blew the building up.
Peace is breaking out in the Middle East without or with the Palestinians. President Trump facilitated that. Blessed are the peacemakers, but man do they get bad press.
Posted by Don Surber at 2/14/2022 03:00:00 PM