Thursday, September 01, 2022
Highlights of the News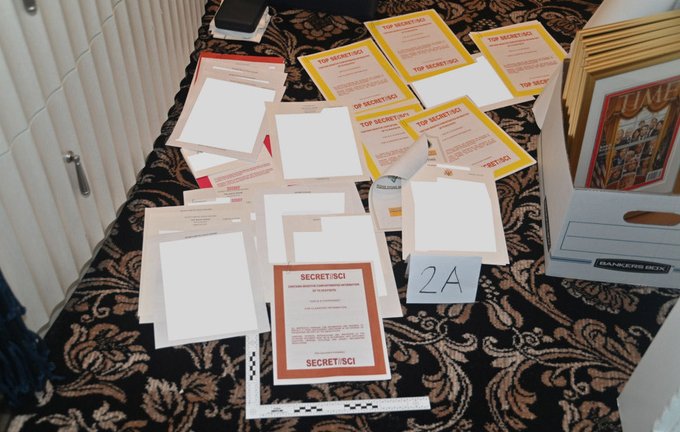 ITEM 1: Did the FBI's staged photo of documents violate the very Espionage Act that they said they were enforcing when they ransacked Mar-a-Lago?
Mark Levin thinks so.He tweeted, "It seems to me an argument should be made that spreading highly classified documents on the floor, with the covers of the documents noting that the documents are indeed classified and taking a photograph even of the covers purely for gratuitous public use (i.e., for no reasonable or legal purpose), is a grossly negligent use of classified documents and the FBI should be held accountable under the Espionage Act:
"'(e) whoever, being entrusted with or having lawful possession or control of any document, writing, code book, signal book, sketch, photograph, photographic negative, blue print, plan, map, model, note, or information, relating to the national defense through gross negligence permits the same to be removed from its proper place of custody or delivered to anyone in violation of his trust, or to be list, stolen, abstracted or destroyed, shall be punished by a fine of not more than $10,000, or by imprisonment for not more than two years, or both."
In their defense, President Trump declassified everything at Mar-a-Lago. He had that power as commander in chief.
ITEM 2: Sarah Palin lost her bid to represent Alaska in Congress. Democrat Mary Peltola won. She will serve through January 3 to finish the late Don Young's term.
It isn't 2008 and it looks like Alaska is flipping blue.
Also ranked voting made it easier to install a Democrat.
ITEM 3: Democrat Charlie Crist quit Congress so he can focus more on losing to Ron DeSantis in Florida's gubernatorial race.
Florida definitely flipped red.
ITEM 4: Trump got 75 million voters.
Biden got 81 million ballots.
Learn to ballot harvest, Republicans.
ITEM 5: Newsweek reported, "Californians may need to take measures to conserve energy, including by avoiding charging electric vehicles, to prevent strain to the state's power grid over the Labor Day weekend, officials said—a week after state regulators voted on a plan to ban the sale of gasoline-powered cars."
That's great news because I'm opening a Flintstone Car dealership in Pasadena.
Yabba-dabba doo!
ITEM 6: The CDC's pandemic panic had consequences.
The deep state cut your life expectancy to get rid of Trump.
Communism? You're soaking in it.
ITEM 7: Just the News reported, "Parents of Hillsborough County Public Schools students in Tampa, Florida, are voicing their outrage after at least one sexually explicit book was made available to students, including a book in a middle school library that features instructions for gay sex and hookup apps.
"Students as young as 11 at Pierce Middle School, in Tampa, are able to check out one of two available copies of This Book is Gay by Juno Dawson, The Florida Standard reported. The book on Amazon is described as an instruction manual for people who come out of the closet by providing a 'candid, funny, and uncensored exploration of sexuality.'
"The book also includes a cartoon of a naked man under the section Boy-on-Boy Sex.
"Florida Standard Editor in Chief Will Witt spoke at the Hillsborough school board meeting Tuesday against the book be available in children's libraries."
Sue the groomers.
It is not your kids they are after. It's the boys without fathers and other vulnerable children.
ITEM 8: Via Citizen Free Press, Voice of America reported, "More than 50,000 monkeypox cases have been recorded in the global outbreak, WHO figures showed Wednesday, but transmission is slowing in the virus hotspots of Europe and the United States."
Gay orgies are down.
ITEM 9: The Pennsylvania Senate race is between Dr. Oz and a stroke victim.
I have it on good authority that Oz was a fine cardiothoracic surgeon.
And Jack Posobiec tweeted, "Fetterman's brain damage has gotten so bad the Democrats are worried the only thing left they can do is nominate him for president."
I will admonish the tweet as inappropriate when I finish laughing.
ITEM 10: Again via Citizen Free Press, France 24 asked, "Why was Gorbachev so popular in West, so unpopular in Russia?"
He was charming.
And people in the West did not have to suffer the consequences of his failure.
ITEM 11: Just the News reported, "Dick Cheney tapped Fauci to be a biodefense official, not top health official says Author-Journalist Ashley Rindsberg."
It figures.
ITEM 12: Go Serena, go.
I am no tennis fan but I know the greatest when I see her.
ITEM 13: Post Millennial reported, "The Assistant Principal at Cos Cob Elementary at the center of controversy due to his discriminatory hiring practices revealed in a Tuesday Project Veritas video has reportedly been placed on leave.
"According to News 12 Connecticut, Jeremy Boland has been placed on immediate leave following the expose."
He said he wouldn't hire Republicans or Catholics.
Why do elementary schools have assistant principals?
ITEM 14: This was my reaction as well.
https://platform.twitter.com/embed/Tweet.html?dnt=false&embedId=twitter-widget-4&features=eyJ0ZndfdGltZWxpbmVfbGlzdCI6eyJidWNrZXQiOlsibGlua3RyLmVlIiwidHIuZWUiXSwidmVyc2lvbiI6bnVsbH0sInRmd19ob3Jpem9uX3RpbWVsaW5lXzEyMDM0Ijp7ImJ1Y2tldCI6InRyZWF0bWVudCIsInZlcnNpb24iOm51bGx9LCJ0ZndfdHdlZXRfZWRpdF9iYWNrZW5kIjp7ImJ1Y2tldCI6Im9uIiwidmVyc2lvbiI6bnVsbH0sInRmd19yZWZzcmNfc2Vzc2lvbiI6eyJidWNrZXQiOiJvbiIsInZlcnNpb24iOm51bGx9LCJ0ZndfY2hpbl9waWxsc18xNDc0MSI6eyJidWNrZXQiOiJjb2xvcl9pY29ucyIsInZlcnNpb24iOm51bGx9LCJ0ZndfdHdlZXRfcmVzdWx0X21pZ3JhdGlvbl8xMzk3OSI6eyJidWNrZXQiOiJ0d2VldF9yZXN1bHQiLCJ2ZXJzaW9uIjpudWxsfSwidGZ3X3NlbnNpdGl2ZV9tZWRpYV9pbnRlcnN0aXRpYWxfMTM5NjMiOnsiYnVja2V0IjoiaW50ZXJzdGl0aWFsIiwidmVyc2lvbiI6bnVsbH0sInRmd19leHBlcmltZW50c19jb29raWVfZXhwaXJhdGlvbiI6eyJidWNrZXQiOjEyMDk2MDAsInZlcnNpb24iOm51bGx9LCJ0ZndfZHVwbGljYXRlX3NjcmliZXNfdG9fc2V0dGluZ3MiOnsiYnVja2V0Ijoib24iLCJ2ZXJzaW9uIjpudWxsfSwidGZ3X3R3ZWV0X2VkaXRfZnJvbnRlbmQiOnsiYnVja2V0Ijoib2ZmIiwidmVyc2lvbiI6bnVsbH19&frame=false&hideCard=false&hideThread=false&id=1565029253602754563&lang=en&origin=https%3A%2F%2Fdonsurber.blogspot.com%2F2022%2F09%2Fhighlights-of-news.html&sessionId=5a6121e3a3f736394a7c582366b5ad738393546e&theme=light&widgetsVersion=1bfeb5c3714e8%3A1661975971032&width=550px
Eventually, people become so old that we all look the same.
ITEM 15: Zero Hedge reported, "There's mounting evidence that the war in Ukraine could have been over by this point, but key Western backers of Kiev sought to sabotage the potential for peaceful settlement through negotiations. That's precisely what regional Ukrainian media reports concluded as early as May, soon after the UK's Boris Johnson showed up in the capital on a surprise visit to meet with President Volodymyr Zelensky for the first time the month prior."
https://googleads.g.doubleclick.net/pagead/ads?client=ca-pub-9129565703685604&output=html&h=280&adk=4191826041&adf=2968850107&pi=t.aa~a.2108135908~i.73~rp.4&w=468&fwrn=4&fwrnh=100&lmt=1662064690&num_ads=1&rafmt=1&armr=3&sem=mc&pwprc=8755675726&psa=1&ad_type=text_image&format=468×280&url=https%3A%2F%2Fdonsurber.blogspot.com%2F2022%2F09%2Fhighlights-of-news.html%3Fspref%3Dfb%26fbclid%3DIwAR1MBKG-swkSA5y0o8TdrxRm_YgFBA_9mUXdstsGBbvtJBkS_aDHzL1qF34&host=ca-host-pub-1556223355139109&fwr=0&pra=3&rh=117&rw=468&rpe=1&resp_fmts=3&wgl=1&fa=27&adsid=ChEI8LDBmAYQ14zt4q-D8uqTARJLABIbcIiebe6Oh30sB_g0R1Y5h1Q-7CgsSz6fFUonszuTJPQeVqoIVYSVHyAN3GiCyC1dL6fcuMftXo65ybql_vyj5c0co4I0Wr57&uach=WyJXaW5kb3dzIiwiMC4xLjAiLCJ4ODYiLCIiLCIxMDQuMC41MTEyLjEwMiIsW10sZmFsc2UsbnVsbCwiNjQiLFtbIkNocm9taXVtIiwiMTA0LjAuNTExMi4xMDIiXSxbIiBOb3QgQTtCcmFuZCIsIjk5LjAuMC4wIl0sWyJHb29nbGUgQ2hyb21lIiwiMTA0LjAuNTExMi4xMDIiXV0sZmFsc2Vd&dt=1662064714903&bpp=4&bdt=2072&idt=4&shv=r20220829&mjsv=m202208290101&ptt=9&saldr=aa&abxe=1&prev_fmts=0x0%2C728x90%2C468x280%2C390x280%2C1258x566%2C468x280%2C468x280%2C468x280&nras=8&correlator=7031481748139&frm=20&pv=1&ga_vid=1107146499.1627306615&ga_sid=1662064714&ga_hid=1492339767&ga_fc=1&u_tz=-240&u_his=1&u_h=720&u_w=1280&u_ah=682&u_aw=1280&u_cd=24&u_sd=1.25&dmc=4&adx=185&ady=8610&biw=1258&bih=566&scr_x=0&scr_y=6370&eid=44759875%2C44759926%2C44759837&oid=2&psts=AEC3cPLvipce2bbg9vn24SzzSbAeR7NGDZW6tQT6z89Ww-QLQsgUZqavQtzp8j9d4vjCe7wExYIF3NF1lXtIzDA%2CAEC3cPJQwb92BhI0fLCVZLXG30cUKzdwmAjplQugEhIwflIKn9-f47CDMGGZseQGAt2lXO5r9PwtIx3_YTE93ZwO3Q%2CAEC3cPLTG8gWrGnPQlyKB6spc3id2ct4WWyX3DBuCHeMQlo1sw2Vkk474sbEHhiDZuYsM6SxIYNV6SwM_isuhCkyYQ%2CAEC3cPLp1OD0CNxzfIxMzoUIbOjWKMVItSL9VK2Se2fdMxDYHk8OTP49HDRsRJ0S2qMaayFRfjzzfCBAlOw0iHO5_w%2CAEC3cPI_6mt5Aij7zklHhXiBoSXcr1iu_teMQmEtrewvN8vvpcq9h-4ssRiJ6FqbQelAAuEzt_n3S185SZwhu2Dy8g%2CAEC3cPJhhzxbJVAzrMhgkW4lj2SUq-caSyTwFKw2oA6tili2N0Ab83STCUlGiJrkhI97GT3O6tM0U1edLDol2cY&pvsid=2992824000110529&tmod=2098027688&uas=0&nvt=1&ref=https%3A%2F%2Fl.facebook.com%2F&eae=0&fc=1408&brdim=-4%2C8%2C-4%2C8%2C1280%2C0%2C1288%2C688%2C1274%2C566&vis=1&rsz=%7C%7Cs%7C&abl=NS&fu=128&bc=31&jar=2022-09-01-20&ifi=7&uci=a!7&btvi=6&fsb=1&xpc=7wDWEmE8e6&p=https%3A//donsurber.blogspot.com&dtd=22029
Politicians love war because they get kickbacks from defense contractors.
There are no good guys. Just bad guys who don't care about the people who elected them.
ITEM 16: The Washington Free Beacon reported, "'Shoot. Me. Now.': Obama Wanted To Drop 'Condescending' Biden, New Book Says."
Was it because Biden is a crook who used Air Force Two to travel all the way to Beijing to pick up a bribe? No.
Was it because Biden is a pedo who inappropriately touched preteen girls in public? No.
Was it because Biden has been wrong on every public policy since 1973? No, no, no.
The story said, "Obama eventually stuck with Biden, though he was furious at his veep's decision to blurt out the administration's support for gay marriage, an announcement Obama wanted to make."
The pettiness of tyranny may be what Lord Acton had in mind when he said absolute power corrupts absolutely.
FINALLY, today is my 69th birthday, a number that still makes me giggle.
My plan for the next year is to live to 70.
Posted by Don Surber at 9/01/2022 07:00:00 AM