All errors should be reported to DonSurber@gmail.com
Thursday, October 06, 2022
Variety says DeSantis beat Disney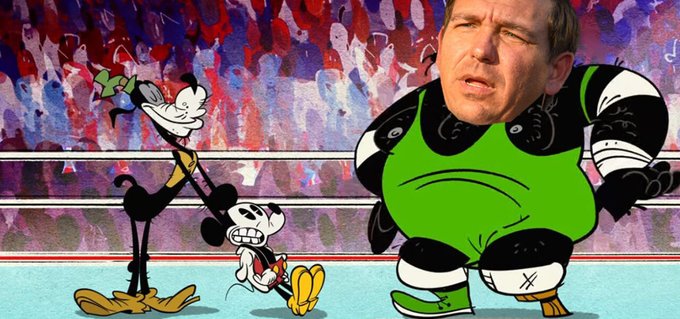 Variety reported, "After 'Don't Say Gay,' a Weakened Disney Hopes to Limit the Damage."The House of Mouse became the Land of LGBT.
All went well until Florida elected a governor who would stand up to the bully, as DeSantis did this spring.
Now it is autumn and Variety said, "Six months after the Don't Say Gay [Parental Rights in Education] controversy, Disney has clearly been weakened by the fight while DeSantis' profile as a conservative culture warrior has only grown. DeSantis has moved on to new controversies that have captured national attention, most recently shipping immigrants to Martha's Vineyard.
"But he has also kept up a steady drumbeat on LGBTQ issues. His administration has taken aim at youth who are gender transitioning, eliminating coverage for gender-affirming care for all ages in Medicaid, and investigating a drag brunch. And Disney, which prides itself on its support for the LGBTQ community, has stayed silent. The company is still engaged in a low-key way in Florida politics – underwriting organizations like Equality Florida – but has said almost nothing in public about Florida politics since vowing in April to help overturn the education law."
Mike Kahane of the AIDS Healthcare Foundation organized a protest at Disney World in March.
He told Variety, "Disney for whatever reason has gone quiet. I would speculate it has something to do with them trying to work out this bigger issue, which could have huge economic consequences to them."
Variety said Steve Knox, a drag queen in Omaha, brought Disney into the controversy in February.
Its story said, "Knox had seen reports about the Parental Rights in Education law, which barred discussion of gender identity and sexual orientation in kindergarten through third grade. He thought about who could help stop it."
So some guy in Nebraska objected to Florida protecting 5-year-olds from sex talk and got Disney all riled up to stop it. One complaint turned the world's largest media conglomeration into a poodle for the LGBT crowd. If you are that stupid, you deserve to lose.
As DeSantis recently said, "If you're going to commit yourself to wanting gender ideology in elementary school, we're not going to hold you up on a pedestal any longer. Disney is no longer going to have its own government. They're going to live under the same laws as everybody else. And they are going to pay their fair share of taxes in the state of Florida."
He made Disney pay by yanking its exemption from local governance.
He told Fox, "Having one company with their own government and special privileges, when that company has pledged itself to attacking the parents in my state; when that company has very high up people talking about injecting pansexualism into programming for young kids, it's wrong. Walt Disney would not want that. So, get back to the mission. Do what you did great. That's why people love the company, and you've lost your way. Maybe this will be the wakeup call that they need to get back on track."
Peter Schorsch, the publisher of Florida Politics, told Variety that Disney donations did not affect DeSantis.
Schorsch said, "Ron DeSantis doesn't need their money. That's changed the nature of politics. He can go to a hedge fund billionaire and get a $5 million check. If you're not coming with a seven-figure check, it doesn't matter. Ron DeSantis can call up some crypto bro CEO. And with that, the lobbying doesn't matter as much anymore."
And Schorsch said, "I think the strategy was to last DeSantis out. But I don't think that's tenable for Disney. He's so radicalized the rest of the Republican Party. They've got like a decade of problems at this point."
DeSantis stood up to the bully and won.
***
2,000 people have subscribed to my Substack account. This is the backup for when — if ever — this blog dies. But I will also use the Substack account for occasional posts.
I finished an exclusive post that will be sent to subscribers at noon on Saturday.
Sign up! It's free.
https://donsurber.substack.com
Posted by Don Surber at 10/06/2022 11:00:00 AM